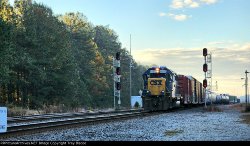 Welcome to the RRPictureArchives.NET contributor site of Trey Biscoe.

Thank you for stopping by and checking out my Railroad Picture Archives site, here you will find a collection of my photographs from May 23, 2013 until July 7, 2014. Photos also uploded of my wife Meaghan Biscoe, as well, hers spans 2009 and are still ongoing as I have shifted to video. Any questions or comments, please feel free to leave comments. Only rule we ask is respect our images, Any questions you may do so through the comments.




As always, thank you for stopping by, and enjoy our photos.



You may browse my collection of pictures via the menu located on the left hand side of the page. I hope you enjoy the collection and thanks for stopping by!
Note: This site is best viewed in Internet Explorer 6.0 or above.
Select one of the links from the menu on the left to begin browsing the collection.